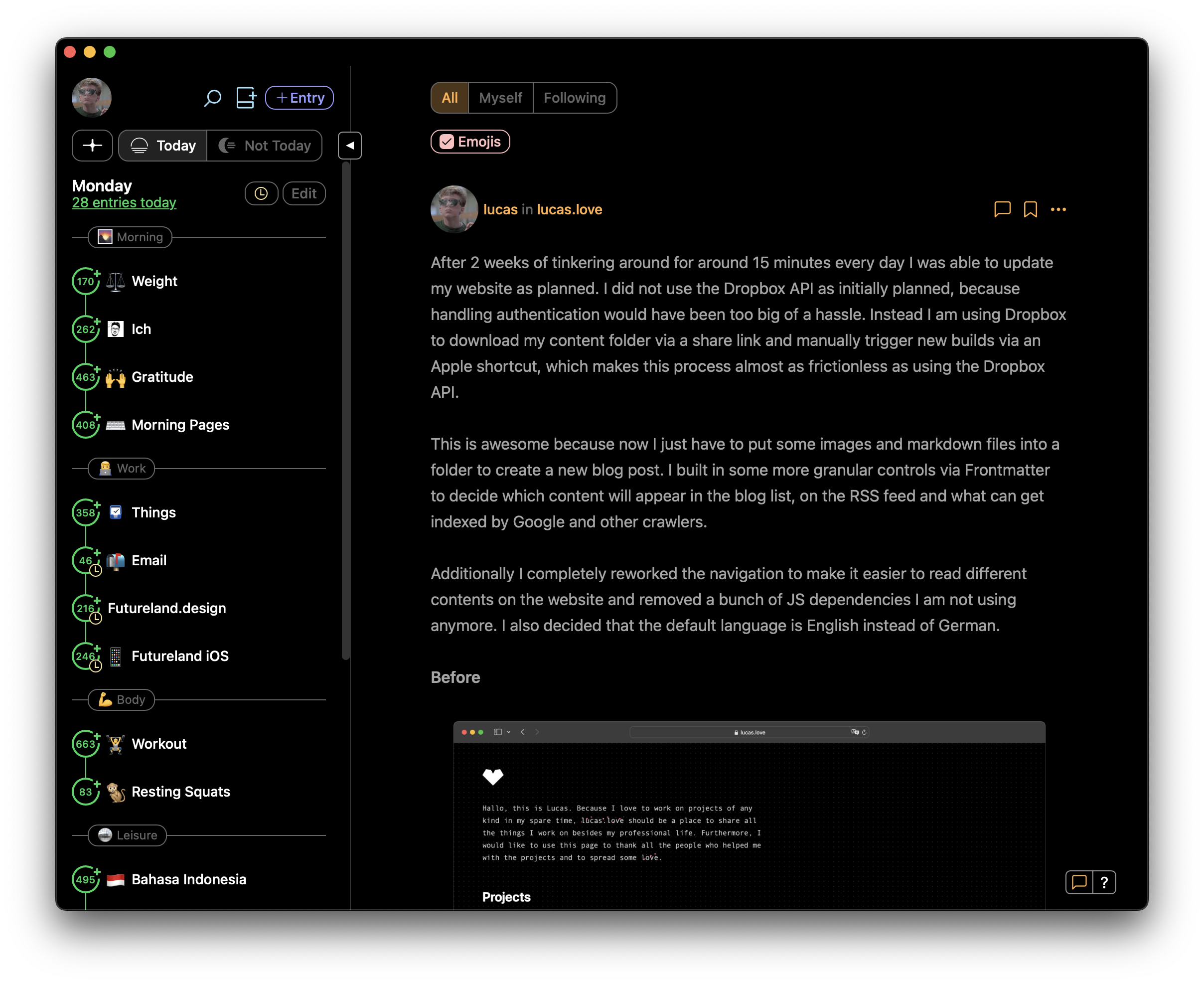 Futureland is a project I'm working on together with Vin since November 2019. In full-time since April 2020.
Vin and I met through a Twitter message he sent me.
Hey thanks for the follow. Your work is great.
Because I was also an admirer of his work, a conversation about caching techniques and how independent developers could help each other evolved. He told me about Futureland, a project he has been working on all by himself for years. He was just learning how to write code while he was developing the first web version of Futureland. It was part of one of his experiments with the question "What happens if I code for 365 consecutive days?" When I met him he already had a working website that was able to display user profiles. In my opinion a huge success for someone who hadn't written even one line of code in his life a year before. I saw the potential in his vision and started to help him. After several weeks of collaboration, Vin decided to invite me to Toronto for an experiment to test how well we could work together. He rented a house (House One) in mid January and moved in with me for a month. Although we mostly left the house only to buy something to eat or drink or to go to the cinema (TIFF), we had a lot of fun working together on Futureland. The experience brought us together and made us real friends.
It has always been difficult for me to find friends who even remotely share my high quality standards. This applies to products (mostly software) I use, but also to my own work. I cannot help but work passionately. Everyone who has ever worked with me on a project can confirm this. I am overjoyed that with Vin I have found a person who shares my demands without exception. We always want the best for our users and work longer than usual on features until we are ready to release them. We are careful not to rush things. This practice is much more difficult than it looks from the outside. We try hard to think of ourselves as beginners and admit that we have no idea what we are doing. We are never satisfied with our results. It often happens that when we want to provide a new feature, we build it from scratch several times. This means Vin designs the same user interface over and over again until he is satisfied enough to send it to me. I then give him feedback and the process starts all over again. When I'm working and Vin has criticism or feedback on something, I go through the exact same process. It often has happened before that we discard things we have worked on for days and start over.
We believe that continuity is the only path to excellence. It is extremely important to remain calm and take ones ego out of the equation. To think about all the tasks we still have to do and act hastily as a consequence is not how we want to work. Meditation is therefore part of both of our daily practices.
We probably have even higher expectations of our own products than the products we use every day. We want to develop the best product for our use-case and do not want to make any compromises. We experiment with ourselves and try to educate ourselves on a daily basis in order to offer our users the greatest possible value. Once we find new useful insights, we directly implement them into Futureland.
You could call Futureland a social network for artists and creative people. At least these are the people we focus on. We offer the possibility to create several diaries to document the process and progress of different kind of projects. Our mission is to create tools that help you focus your attention on the things that are most important to you and thereby achieve your goals. We firmly believe that continuity is the way to achieve your goals step by step. Whether it is completing projects or learning new skills. We want to create a place on the Internet that is much calmer and less intrusive than existing social media platforms. A place where you can be inspired by others and work on yourself without being distracted. It is important to us not to use toxic and addictive mechanisms that harm our users. We appreciate our users very much. We want to treat them the way we want to be treated, as creative, busy and intelligent individuals.
At this point many thanks to Vin for taking the first step and becoming one of my closest friends.